Media relations
Elita Fielder Adjei
Director, Communications & Publicity
DMED
(424) 247-3517
Share this release
The Premiere of 'Our America: The HBCU Experience' Kicks Off ABC11'S Exclusive 'Black History Month' Content Airing Across Its Broadcast and Available on ABC11 North Carolina Connected TV Apps on Amazon Fire TV, Android TV, Apple TV and Roku—Including The Rebroadcast of 'Our America: Living While Black' on Hulu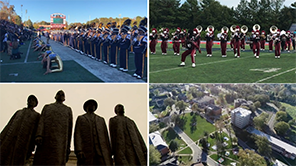 View 'The HBCU Experience' Trailer Here
ABC11/WTVD-TV Raleigh Durham premieres "Our America: The HBCU Experience," Feb. 1-5 (5:30 p.m. EST),a weeklong series featuring North Carolina's Historically Black Colleges and Universities, as part of the station's exclusive Black History month content. ABC11's "Black History Month: Past, Present, Future" month-long content celebrates Black culture with multiple features airing every week on ABC11 and available to stream on ABC11's connected TV apps on Amazon Fire TV, Android TV, Apple TV and Roku. Additionally, the groundbreaking five-part docuseries, "Our America: Living While Black," is available to stream on the station's connected TV apps and Hulu.
The "HBCU Experience" special will spotlight one HBCU each day, beginning Monday, Feb. 1, through Friday, Feb. 5 (5:30 p.m.EDT), in its newscast with an extended version available exclusively on the ABC11 News App and ABC11's connected TV apps.
Below is a snapshot of ABC11's "Black History Month: Past, Present, Future," month-long content.
Week 1:
"Our America: The HBCU Experience" shines a light on the history, legacies, resilience and impact the historically Black colleges and universities of North Carolina A&T University, Shaw University, St. Augustine's University, North Carolina Central University and Fayetteville State University have had on Black students, alumni and the community.
Week 2:
History of ABC11 "Within These Walls" takes a look at the Black history of ABC11, including Ervin Hester, the first African American news anchor in the Southeast.
Pauli Murray is a civil rights activist who led change in North Carolina. Murray was the first black woman to be ordained as an Episcopal priest. Murray gave her first communion as a priest at the church in Chapel Hill, where her grandmother (a slave) was baptized.
Black Negro Leagues across the United States are now being honored by Major League Baseball. We speak with the stepdaughter of one of the greatest Negro League players in history, Buck Leonard.
Week 3:
Today's Change Makers takes a look at social movements, like Black Lives Matter, and the impacts social activists, like Kerwin Pittman, are making in our communities today. We will also speak to 12-year-old Elijah Lee, who marches for awareness of children who suffer in silence after they are victims of child abuse.
Rabbi Sandra Lawson is thefirst openly gay female Black rabbi, now the head of religious studies at Elon University in North Carolina.
Freeman Round House Museum features artifacts that depict the culture and contributions of African Americans to the history and development in Wilson, North Carolina. Freeman was a noted local African American stonemason who built homes to help alleviate the housing shortage for GIs returning from the war.
Week 4:
Infrastructure Racism, Part 1, investigates how urban freeways divided neighborhoods in the South. The Durham Freeway was intentionally built through Durham's Hayti district, destroying the once vibrant community. From 1949-1973 the U.S. Government bulldozed 2,500 neighborhoods in 993 cities, displacing one million people.
Infrastructure Racism, Part 2, investigates redlining that existed in Durham and the lasting impact on low-income and minority neighborhoods in one of the South's largest cities. The areas that were once in red districts are now some of the poorest areas in Durham.
Infrastructure Racism, Part 3, investigates how Raleigh's growth leads to gentrification in the city's low-income southeast. While Raleigh's suburban neighborhoods have diversified in the number of non-Black residents moving in, South Park in southeast Raleigh has had more white residents moving in since 2000. On average, people in South Park make $75,000 more than their neighbors.
All stories highlighted will air within the newscast of ABC11 and available via streaming and VOD on the station's connected TV apps.
About ABC11/WTVD-TV Raleigh-Durham
The only local news station with three downtown newsrooms (Raleigh/Fayetteville/Durham), ABC11 Eyewitness News provides 47.5 hours of local news every week, serving more than 1 million households in a 23-county area in North Carolina and Virginia. Eyewitness News also provides news, weather and sports information 24 hours a day on ABC11.com, the ABC11 mobile news app and the new connected TV app available on Roku, Fire, Apple, and Android TVs. ABC11 WTVD is one of eight ABC Owned Stations as part of the Disney Media & Entertainment Distribution division. For more information, go to http://www.abc11.com.
Media Contact:
WTVD/ABC Owned Television Stations
Elita Fielder Adjei
Director, Communications & Publicity
elita.adjei@disney.com