Media relations
No contacts found
Share this release
6ABC/WPVI-TV Philadelphia Sits Down With Mayor Jim Kennney, Police Commissioner Danielle Outlaw and Community Leaders in a Virtual Town Hall To Address Gun Violence
'Building It Better Together Town Hall: Gun Violence' Will Air on 6abc, Sunday, Sept. 13 (9:30-10:30 a.m. EDT)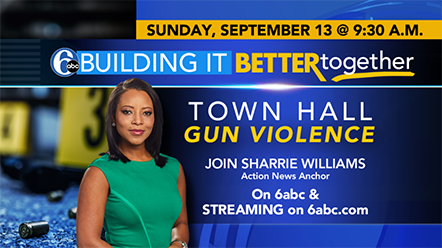 6abc, Philadelphia's leading news source, presents a one-hour virtual town hall, "Building It Better Together Town Hall: Gun Violence," on Sunday, Sept. 13 (9:30-10:30 a.m. EDT). Hosted by 6abc Action News anchor Sharrie Williams and reporter Corey Davis, the town hall will air on 6abc and streamed live simultaneously on 6abc.com, 6abc news app and 6abc connected television apps. 
Gun violence is escalating in the city of Philadelphia. With three months remaining in 2020, the city has experienced more than 300 homicides for the year, more than the total sum of homicides in previous years. In fact, homicides in the city are up 34% from 2019 and over 100 children are victims of gun violence in the city thus far. Recently, Philadelphia Police Commissioner Danielle Outlaw joined members of the community in a peace walk. She will join 6abc's town hall to discuss what the department and the city are doing to stop gun violence.
Williams is bringing a panel of experts together that will include the following:
Police Commissioner Danielle Outlaw
Mayor Jim Kenney, City of Philadelphia 
Senator Sharif Street, Pennsylvania State Senate
Keir Bradford-Grey, executive director, Philadelphia Defenders Association
Solomon Jones, radio personality, author and Inquirer columnist 
Ted Qualli, executive director, Philadelphia Police Athletic League
Bilal Qayyum, activist and founder, Father's Day Rally Committee 
Derrick Wood, inspector, Philadelphia Police Department  
Dr. Dorothy Johnson-Speight, founder and national director, Mothers In Charge 
There are numerous topics to cover. WPVI's Williams and Davis will work to address concerns they are hearing from the community. They will seek answers and guidance from the panel to provide solutions to issues facing the communities. The topics will range from law enforcement response to escalating shootings and homicides, City of Philadelphia's response to violence amid the COVID-19 pandemic, public policy and gun laws, poverty and the correlation to educational, healthcare disparities and unemployment, to motivating communities and neighborhoods to get involved and "take back their streets" and many other topics of concern.
"Building It Better Together Town Hall: Gun Violence" will air Sunday, Sept. 13 (9:30-10:30 a.m. EDT), on 6abc/WPVI-TV. Viewers can also stream livethe hour-long conversation on 6abc.com, 6abc news app and 6abc connected television apps. 
About 6abc/WPVI-TV Philadelphia 
For over half a century, 6abc/WPVI-TV Philadelphia has been broadcasting to viewers in the Delaware and Lehigh Valleys, an area covering southeastern Pennsylvania, northern and centralDelaware and southern New Jersey. As the No. 1 station in Philadelphia for almost 45 years, 6abc Action News delivers local news information, traffic, and weather to more than 3 million homes. Action News captures over halfof all Adult 25-54 news viewers on an average day*.  In the past year, Action News has won 2,633 out of 2,662 newscasts in Households for a winning percentage of98.9%.† 
*Based on April 2020 Nielsen survey.
†Based on May 2019 – April 2020 Nielsen data.
Media Contact:
Elita Fielder Adjei
(424) 247-3517 
elita.adjei@disney.com