Media relations
Elita Fielder Adjei
Director, Communications & Publicity
DMED
(424) 247-3517
Share this release
6ABC/WPVI-TV Philadelphia Kicks Off a Virtual Lineup to Celebrate Community Parades, Beginning This Sunday, Sept. 27 (12:30 P.M. EDT), With the Puerto Rican Day Celebration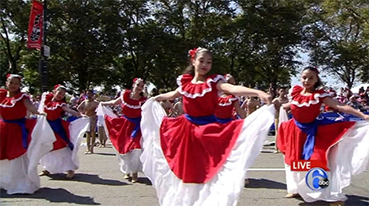 6abc continues Philadelphia's tradition of recognizing various communities by airing and streaming half-hour virtual celebrations for the following parades: The Puerto Rican Day Celebration, Pulaski Day Celebration (celebrating Polish heritage), Italian American Heritage Celebration and the Veterans Day Celebration. The first celebration kicks off this weekend with the Puerto Rican Day Celebration to air SUNDAY, SEPT. 27 (12:30-1:00 p.m. EDT), hosted by anchor Walter Perez.
Although all city-wide parades have been canceled in Philadelphia until January 2021, these half-hour linear broadcasts will feature parade hosts coming together virtually to discuss current events and share with viewers how they are celebrating their respective cultures virtually. The celebratory specials will also highlight the previous year's community parades.
"These community events are the fabric of what makes Philadelphia so unique, and today they are more important than ever," says Bernie Prazenica, president and general manager of 6abc. "It is our distinct honor to share these events with our 6abc television and digital audiences."
The virtual community parades' celebrations will air as follows:
| | | |
| --- | --- | --- |
| Puerto Rican Day Celebration | Sunday, Sept. 27 | 12:30-1:00 p.m. EDT |
| Pulaski Day Celebration | Sunday, Oct. 4 | 12:30-1:00 p.m. EDT |
| Italian American Heritage | Sunday, Oct. 11 | 12:30-1:00 p.m. EDT |
| Veterans Day Celebration | Sunday, Nov. 8 | 12:30-1:00 p.m. EDT |
Viewers can also stream the half-hour virtual parade celebrations on 6abc.com, 6abc news app and 6abc connected television apps.
About 6abc/WPVI-TV Philadelphia
For over half a century, 6abc/WPVI-TV Philadelphia has been broadcasting to viewers in the Delaware and Lehigh Valleys, an area covering southeastern Pennsylvania, northern and central Delaware and southern New Jersey. As the No. 1 station in Philadelphia for almost 45 years, 6abc Action News delivers local news information, traffic, and weather to more than 3 million homes. Action News captures over half of all Adult 25-54 news viewers on an average day*. In the past year, Action News has won 2,633 out of 2,662 newscasts in Households for a winning percentage of 98.9%.†
*Based on April 2020 Nielsen survey.
†Based on May 2019 – April 2020 Nielsen data.
Media Contact:
Elita Fielder Adjei
(424) 247-3517
elita.adjei@disney.com
Elisa Bolduc
VP, Corporate Communications, Walt Disney Television
elisa.bolduc@disney.com