Media relations
No contacts found
Share this release
Lin-Manuel Miranda, Rosie Pérez, Esaí Moráles, Gilberto Santa Rosa, La India and Pedro Capó Among the Stars Headlining the National Puerto Rican Day Parade TV Special on June 14
Program to feature the traditional Afro-Puerto Rican dance, Bomba, historically used as an artistic and peaceful form of protest and cultural pride
Commemorative TV special to air on June 14 on ABC7 in New York and streamed live on abc7ny.com at noon EDT, and on ABC7/KGO-TV San Francisco at 2:00pm PDT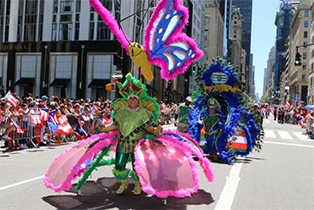 The National Puerto Rican Day Parade announces an all-star lineup of Puerto Rican luminaries from television, film, music and theater to headline the commemorative TV special to air on WABC-TV channel 7 on June 14 at noon EDT, given the postponement of the 63rd Annual National Puerto Rican Day Parade that normally takes place on 5th Avenue, due to the COVID-19 pandemic. Confirmed artists include Lin-Manuel Miranda, Rosie Pérez, Esaí Morales, Gilberto Santa Rosa, La India, Victor Manuelle, Ivonne Coll, Pedro Capó Anthony Ramos, Ariana DeBose, Kany García, and many others. The TV special will continue the longstanding tradition of the largest celebration in America that recognizes Puerto Rican culture and history, in addition to raising awareness of the issues that affect Puerto Rico.
A key feature in the program will be the Puerto Rican community's solidarity with Black people around the world by showcasing the traditional dance of Bomba, an Afro-Puerto Rican tradition of music and dance that represents resistance, survival, celebration and healing. Bomba originates from the black slaves who worked on the sugar plantations in 17th century Puerto Rico. Today, Bomba has become an artistic and culturally meaningful form of protest and a symbol of pride.
For the first time ever, National Puerto Rican Day Parade programming will air in the San Francisco Bay area on ABC7/KGO-TV, at 2:00pm PDT, as well as on ABC5 WORA-TV in Puerto Rico at noon EDT. It will also be streamed on abc7ny.com, the station's connected TV apps on Amazon FireTV, Android TV, Apple TV, and Roku. The stream will also be available on the websites of the ABC Owned Television stations in Los Angeles, Chicago, Philadelphia, San Francisco, Houston, Raleigh/Durham and Fresno.
In late May, WABC-TV Channel 7 and the National Puerto Rican Day Parade (NPRDP) Board of Directors announced their plans to broadcast a 90-minute TV special, hosted by WABC-TV anchors Joe Torres and David Novarro along with Sunny Hostin, co-host of "The View."
About WABC
WABC-TV has been the leader in local news and entertainment programming in the New York City area for more than 60 years. Producing more than 45 hours of live, local news and weather each week, Channel 7 "Eyewitness News" is the most watched local news in New York and the United States. WABC-TV also produces "Live with Kelly and Ryan," weekdays at 9:00 a.m., which is seen in more than 200 markets across the U.S. Quality news and programming, cutting-edge technology and ongoing community outreach are the hallmarks of excellence that have consistently kept WABC-TV New York's No. 1 station and the most-watched television station in the nation.
About the National Puerto Rican Day Parade
Now in its 63rd year, the National Puerto Rican Day Parade (NPRDP) is America's largest celebration of cultural pride in the nation. Programs and events preserve Puerto Rican culture through special tributes to national symbols, historical figures and campaigns to raise awareness on important issues impacting the community. NPRDP's hallmark program is the Scholarship Program, which serves to advance educational achievement in the Puerto Rican community. The Parade's TV broadcast is a top-rated program and has been nominated for an Emmy® for three consecutive years.
WABC Media Contact
Elita Fielder Adjei
(424) 247-3517
Elita.Adjei@disney.com
NPRDP Media Contact New York
Javier E. Gomez
(917) 533-1247
javier@highpitchpr.com
NPRDP Media Contact Los Angeles
Jasmin Espada
Espada PR
(818) 521-3807
jasmin@espadapr.com
NPRDP – Media Contact Puerto Rico
Wilson Nazario
(787) 409-8376
wilson.nazario@gmail.com