Media relations
Fonda Berosini
Disney Entertainment, Networks
Share this release
Eyewitness to 9/11: Behind the Lens' Will Stream Aug. 30 on abc7ny.com, ABC7NY's Connected TV Apps on Amazon Fire TV, Android TV, Apple TV and Roku
Eyewitness to 9/11: Behind the Lens' Will Stream Aug. 30 on abc7ny.com, ABC7NY's Connected TV Apps on Amazon Fire TV, Android TV, Apple TV and Roku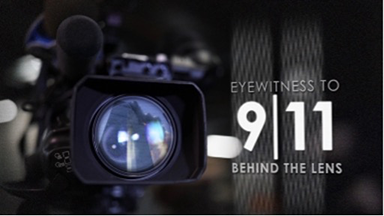 ABC7/WABC-TV New York, the No. 1 and most-watched station in the nation, shares with viewers a firsthand account of broadcast moments and never-before-seen footage that occurred on Sept. 11 in an exclusive stream-only premiere of "Eyewitness to 9/11: Behind the Lens,"Today, Aug 30. The hour-long special features rare footage, riveting testimonies from ABC7 reporters, anchors and staff who were live on-air or reporting the day of the Sept. 11 attacks in New York.
"Doing my job and documenting it pays tribute to the people who actually never survived," said WABC photojournalist Glenn Mayrose.
On the 20th anniversary of Sept. 11, the hourlong streaming special takes viewers "behind the lens" and features Eyewitness News journalists who were there in the streets, in the air and in the newsroom, reporting on the events as the tragedy unfolded, capturing unforgettable videos and risking their lives to inform the world what was happening, minute by minute.
"Eyewitness to 9/11: Behind the Lens" is riveting and documents the day moment by moment on what began as a local news breaker on a clear, blue-sky morning in lower Manhattan to become one of the darkest days in American history. The special is uniquely told in first-person narrative of the Eyewitness News team – from field crews and newsroom staff to Eyewitness News anchors and reporters, past and present, including Bill Ritter, NJ Burkett, Sandra Bookman, Joe Torres, Nina Pineda, Lauren Glassberg, Anthony Johnson, Jim Dolan, Michelle Charlesworth, Diana Williams, Lucy Yang, Stacey Sager, Marcus Solis, John Del Giorno, Jim Hoffer, Tim Fleischer and Jeff Rossen.
"And as for us, we were covering it–these families that never were the same again, have a much, much bigger burden than we do," reflects ABC7 reporter Nina Pineda in the documentary.
The station also pays special tribute to WABC engineer Don DiFranco, who was working in the North Tower the morning of the attacks. DiFranco's first and last call was made to the master control room of Eyewitness News headquarters, located at 7 Lincoln Square, to alert fellow engineers of a possible disruption in service.
"Eyewitness to 9/11: Behind the Lens" debuts on ABC7NY's Connected TV Apps on Roku, Amazon Fire TV, Apple TV and Android TV. To stream the special, viewers can search "ABC7 New York" in the app store.
EDITOR'S NOTE: Image Courtesy of WABC-TV
About WABC
WABC-TV has been the leader in local news and entertainment programming in the New York City area for more than 60 years. Producing more than 45 hours of live, local news and weather each week, Channel 7 "Eyewitness News"is the most watched local news in New York and the United States. WABC-TV also produces "Live with Kelly and Ryan," weekdays at 9:00 a.m., which is seen in more than 200 markets across the U.S. Quality news and programming, cutting-edge technology and ongoing community outreach are the hallmarks of excellence that have consistently kept WABC-TV New York's No. 1 station and the most-watched television station in the nation.