Media relations
Fonda Berosini
Disney Entertainment, Networks
Share this release
ABC7 New York Sits Down With Its 1980 Broadcast Team in an Exclusive Eyewitness Account to the Murder of John Lennon, Set to Premiere This Friday, Dec. 4
'Eyewitness to the Death of John Lennon' Features Interviews With Geraldo Rivera, Former ABC7 Anchor Ernie Anastos, Former Reporters John Johnson and Doug Johnson, and Former Producer Alan Weiss, the First Person to Break the News of John Lennon's Death
'Eyewitness to the Death of John Lennon' Will Premiere Exclusively as a Stream-Only Special This Friday, Dec. 4, on ABC7NY's Connected TV Apps on Amazon Fire TV, Android TV, Apple TV, and Roku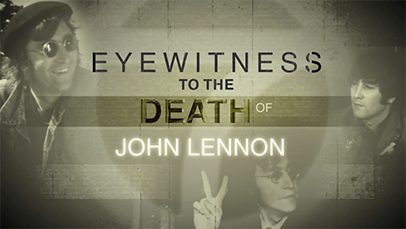 ABC 7/WABC-TV New York shares with viewers a firsthand account of John Lennon's murder in an exclusive stream-only premiere of "Eyewitness to the Death of John Lennon," hosted by ABC7 anchor Bill Ritter this Friday, Dec. 4.Featuring rare footage, viewers will be able to witness the firsthand account when ABC7 was the first to confirm the murder of Lennon and broke the news to the nation during ABC's Monday Night Football with former ABC7 sports anchor Howard Cosell on Dec. 8, 1980. Viewers can stream the premiere of the special across ABC7 NY's connected TV apps on Amazon Fire TV, Android TV, Apple TV, and Roku. The special will also air on Channel 7 on Sunday, Dec. 13 (5:00 p.m.).
As the 40th anniversary of Lennon's murder approaches, Ritter interviews the 1980 ABC7 broadcast team who were on the ground and covered the story, both in front of the camera – Geraldo Rivera, Ernie Anastos, John Johnson, Doug Johnson – and behind the scenes. The special includes the fascinating firsthand account of former ABC7 producer Alan Weiss who broke the story to the station. Weiss was receiving medical care at the Roosevelt hospital when the police and emergency responders rushed Lennon into the emergency room. He recounts the moment he witnessed firsthand the doctors working to save the former Beatle's life, the screams of Lennon's wife, Yoko Ono, and how he broke the story to the then ABC7 assignment editor, Neil Goldstein.
The Lennon special is riveting and will tell the story that shook the world from a perspective many have never seen — as it happened, moment by moment, with rare and newly discovered historical footage, all through the eyes of Eyewitness News.
"Eyewitness to the Death of John Lennon" will debut on Friday, Dec. 4, on ABC7's streaming apps on Roku, Amazon Fire TV, Apple TV, and Android TV. To stream the special, viewers can search "ABC7 New York" in the app store. The special will also air on Channel 7 on Sunday, Dec. 13 (5:00 p.m.).
About WABC
WABC-TV has been the leader in local news and entertainment programming in the New York City area for more than 60 years. Producing more than 45 hours of live, local news and weather each week, Channel 7 "Eyewitness News"is the most watched local news in New York and the United States. WABC-TV also produces "Live with Kelly and Ryan," weekdays at 9:00 a.m., which is seen in more than 200 markets across the U.S. Quality news and programming, cutting-edge technology and ongoing community outreach are the hallmarks of excellence that have consistently kept WABC-TV New York's No. 1 station and the most-watched television station in the nation.