Media relations
Elita Fielder Adjei
Director, Communications & Publicity
DMED
(424) 247-3517
Share this release
ABC7/KGO-TV San Francisco Will Air Live Virtual 'Aids Walk: Live at Home' Special, Sunday, July 19 (10:00 A.M. PDT)
Speaker Nancy Pelosi, Glenn Close, Jordin Sparks, Bette Midler, Gloria Estefan and Many More Celebrities Join Forces to Raise Funds for People Affected by HIV and Related Challenges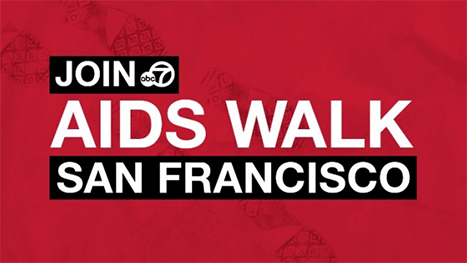 ABC7/KGO-TV San Francisco will air a one-hour virtual special, "AIDS Walk: Live At Home," on SUNDAY, JULY 19 (10:00 – 11:00 a.m. PDT), to raise funds to benefit PRC, (formerly Positive Resource Center), and more than 45 other AIDS service organizations that provide HIV/AIDS care, prevention services and advocacy throughout the Bay Area. In addition to airing on ABC7, the special will be livestreamed on aidswalk.net and PRCSF.org. 
ABC7 has been a proud sponsor of the AIDS Walk San Francisco since 1987. Normally, the ABC7 news team would join in the walk that's held at Golden Gate Park. However, due to the COVID-19 pandemic, the event will be held virtually. Additionally, AIDS Walk San Francisco and AIDS Walk New York have joined together to feature voices of communities of supporters from both cities and coasts. This year's special will harness the strength and individual character of two landmark events coming together virtually to present the Bay Area's largest, single-day AIDS-related fundraiser.
Just added to the star-studded lineup for Sunday's virtual broadcast on ABC7 are Speaker Nancy Pelosi, Glenn Close, Anne Hathaway, Jordin Sparks, Harvey Fierstein, Raul Esparza, Norm Lewis and San Francisco Mayor London Breed. They join previously announced guests, award-winning icon Bette Midler; GRAMMY®-winning global superstar Gloria Estefan; Golden Globe® winner Matt Bomer; entertainment icon Vanessa Williams; Emmy® and Golden Globe Award winner Laura Linney; Katharine McPhee ("Smash"); Shoshana Bean ("Wicked"); Megan Hilty ("Smash"); Skylar Astin ("Zoe's Extraordinary Playlist"); Alex Newell ("Zoe's Extraordinary Playlist"); and stars from "RuPaul's Drag Race," including Nina West, Jackie Cox, Latrice Royale, Willam, Chi Chi DeVayne, Alexis Michelle, The Vixen and Ginger Minj.
"AIDS Walk: Live at Home" will raise awareness and funds that support HIV care and prevention services, as well as mental health, substance use, housing and other important social programs. Viewers are encouraged to register and raise funds at aidswalk.net or call 415-615-WALK.
About ABC7/KGO-TV San Francisco
Emmy® Award-winning station KGO-TV ABC7 is the San Francisco Bay Area's source for breaking news, weather and live video. Widely recognized for its solution-based promise to help the Bay Area communities, the station's initiative "Building a Better Bay Area" dedicates more time, resources and reporting to the issues that impact its viewers' quality of life. From the local economy and education, to health and safety, to race and social justice, ABC7's focus is to bring greater perspective on the challenges currently facing neighborhoods. In addition to being the first station in the market to expand its weekday morning program to 4:30 a.m. in 2008 and their 11 p.m. weekend newscast to one hour in 2011, the station has consistently garnered Emmy nominations and wins for Overall Excellence/News Excellence, with one most recently awarded in 2019. KGO-TV is an ABC owned television station serving San Francisco, Oakland, San Jose and all of the greater Bay Area. 
About PRC (formerly Positive Resource Center)
A San Francisco-based nonprofit, PRC helps people affected by HIV/AIDS, substance use or mental health issues better realize opportunities by providing integrated legal, social and health services that address the broad range of social risk factors that impact wellness and limit potential. In 2017, PRC merged with AIDS Emergency Fund, an emergency financial assistance provider for low-income residents disabled by HIV/AIDS, and Baker Places, an agency that provides a comprehensive array of residential treatment services to people with mental health, substance abuse and HIV/AIDS-related issues. Combined, the three organizations operate as PRC, represent a combined 115-year history of service and serve approximately 6,500 clients per year. For more information, please visit www.prcsf.org.
About AIDS Walk San Francisco
Since 1987, AIDS Walk San Francisco (AWSF) has raised more than $90 million for lifesaving HIV prevention, testing, and care programs and services, and has grown into the largest AIDS fundraising event in California. PRC, for the first time, is the event's lead beneficiary. AWSF has become a Bay Area tradition, bringing together tens of thousands of participants and volunteers; hundreds of corporate, community, and friends & family teams; as well as hundreds of thousands of donors from the Bay Area and across the country. For more information, to sign up, or to donate, please visit sf.aidswalk.net.
Editor Note: Full list of participants (in alphabetical order):
| | | | |
| --- | --- | --- | --- |
| Dan Ashley | Alan Cumming | Megan Hilty | Bette Midler |
| Skylar Astin | Chi Chi DeVayne | Téa Leoni | Speaker Nancy Pelosi |
| Shoshana Bean | Elvis Duran | Norm Lewis | Latrice Royale |
| Bobby Berk | Gloria Estefan | Laura Linney | The Vixen |
| Matt Bomer | Raul Esparza | Ross Mathews | Nina West |
| San Francisco Mayor, the Honorable London Breed | Harvey Fierstein | Katharine McPhee | Mae Whitman |
| Karamo Brown | Tan France | Alexis Michelle | will.i.am |
| Glenn Close | Peter Gallagher | Ginger Minj | Vanessa Williams |
| Jackie Cox | Anne Hathaway | Alex Newel | |