Media relations
Elita Fielder Adjei
Director, Communications & Publicity
DMED
(424) 247-3517
Share this release
ABC7/KABC-TV Los Angeles Presents a Women's History Month Town Hall, 'Women's Health' To Address Racial and Ethnic Health Disparities Impacting Women
The Town Hall Will Air on ABC7 on Thursday, March 25 (4:30 p.m. PDT)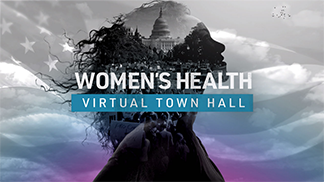 KABC-TV, Southern California's most-watched television station, presents a Women's History Month one-hour town hall, "Women's Health," addressing racial and ethnic health disparities impacting women of color airing Thursday, March 25 (4:30 p.m. PDT). The event will be hosted by ABC7 Eyewitness News anchors David Ono and Ellen Leyva, who will present a panel of experts to answer viewers' questions.
Studies show that women of color have worse health outcomes than white women, and nearly twice as many women of color describe themselves as being in fair or poor health. The panel of experts will address the importance of self-care specifically for women, access to health care, and how diseases and conditions that include diabetes, heart disease, high blood pressure, cancer and obesity impact communities of color.
Panelists include the following:
Cynthia E. Muñoz, Ph.D., MPH psychologist, American Diabetes Association
Tracie Kimbrough, cancer survivor and "Reach to Recovery" volunteer, American Cancer Society
Dr. Karol Watson, cardiologist at UCLA Health, volunteer expert for the American Heart Association 
Dr. Sonal Patel, Allergy & Immunology, Allergy and Internal Medicine/Pediatrics, American Lung Association
The virtual town hall will air on ABC7 and viewers can stream it live on abc7.com, ABC7 Los Angeles app, and ABC7 Los Angeles connected TV apps for Amazon FireTV, Android TV, Apple TV and Roku. A recording of the virtual town hall will also be available at ABC7.com and ABC7's connected TV apps following the live stream.
About KABC Los Angeles
ABC7 Los Angeles is Southern California's No. 1 local news and information source. ABC7 is a leader in digital and social audience engagements and was the first station in the Los Angeles market to regularly broadcast news in high definition and also the first local television station in the United States to surpass 3 million Facebook followers. The station's offices and studio are located in Glendale, California. 
Media Contact:
Elita Fielder Adjei
(424) 247-3517
elita.adjei@disney.com