Media relations
Fonda Berosini
Disney Entertainment, Networks
Share this release
ABC7/KABC-TV Los Angeles Honors Dr. Martin Luther King Jr. in a '2021 Kingdom Day Celebration' in Collaboration With the Congress of Racial Equality of California and Presenting Sponsor Blue Shield of California
The Hour-Long Special Includes an Extraordinary Interview with Dr. King's Son, Martin Luther King III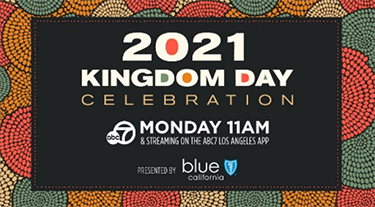 ABC7 Los Angeles announces it will air "2021 Kingdom Day Celebration" special on Monday, Jan. 18, 2021 (11:00 a.m. PST) to celebrate the life and legacy of Dr. Martin Luther King Jr. The event, which historically is a live parade that travels down the streets of South Los Angeles, will be an hour-long televised event hosted by ABC7 anchors Leslie Sykes and Rachel Brown. The special is presented by Blue Shield of California with organizing sponsor, Congress Of Racial Equality of California (CORE-CA).
The theme of this year's Kingdom Day celebration is "Healing America." According to the parade organizers, the meaning behind the theme is to "say or do only those actions which Dr. King himself would be saying or doing if he were here. Dr. King was about 'healing and justice.'"
The celebration includes a special interview with Dr. King's son, Martin Luther King III. The special will walk viewers down memory lane, highlighting the past Kingdom Day parades, guest appearances, and commentary from previous grand marshals, Los Angeles mayor Eric Garcetti, U.S. representatives Maxine Waters & Karen Bass, Los Angeles Dodgers manager Dave Roberts, performer and producer Debbie Allen, and Vice President-Elect Kamala Harris, (2017 KDP Grand Marshal). There will also be celebrity guest appearances and interviews with local newsmakers who will share the impact Dr. King's dream has had on them.
Viewers can also download the free ABC7 Los Angeles app and stream the celebration on Amazon Fire TV, Android TV, Apple TV, and Roku.
ABC7 Los Angeles is Southern California's No. 1 local news and information source. ABC7 is a leader in digital and social audience engagements and was the first station in the Los Angeles market to regularly broadcast news in high definition and also the first local television station in the United States to surpass 3 million Facebook followers. The station's offices and studio are located in Glendale, California.