Media relations
Fonda Berosini
Disney Entertainment, Networks
Share this release
Tamron Hall Hosts Half-Hour Special 'Our America: Women on a Roll' Airing Across the Eight ABC Owned Television Stations Beginning Saturday, March 25
The 'Our America: Women on a Roll' Special Is Part of the ABC Owned Television Stations' Exclusive Programming in Support of Women's History Month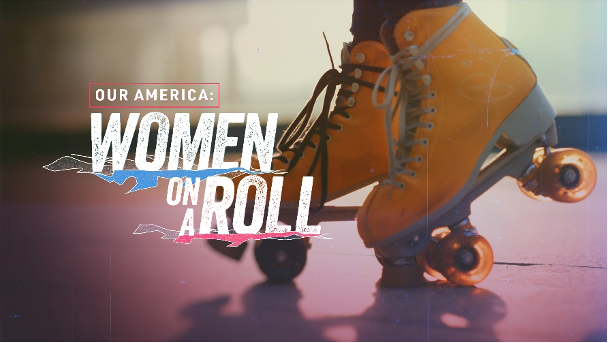 Beginning Saturday, March 25, and throughout the month, viewers can tune in for "Our America: Women on a Roll" hosted by the Emmy® Award-winning Tamron Hall, broadcast journalist host of the syndicated daytime talk show of the same name. In this Women's History Month half-hour special, which will air across the eight ABC Owned Television Stations and ABC Localish, Tamron Hall laces up her skates and explores how the sport empowers women in cities across America and continues to move our culture forward decade after decade.
From an 11-year-old "shredding" in Philadelphia to a skating rink in Texas breaking down barriers, women are riding fearlessly into sports once dominated by men. "Women on a Roll" highlights diverse women and girls who are making a difference in their neighborhoods by uplifting and defining skate culture. From feminists fighting elbow-to-elbow on a roller derby flat track to a mother-and-daughter duo reshaping their community one rink at a time, these local skate icons share their inspiring stories, impart the lessons they've learned, and demonstrate how anyone can do anything with determination and perseverance – especially when one is on eight wheels.
The series will air as follows across the eight ABC Owned Television Stations and on ABC's award-winning Localish network:
Saturday, March 25
ABC13/KTRK-TV Houston at 5:00 p.m. CDT
ABC7/KABC-TV Los Angeles at 10:00 p.m. PDT
ABC7/KGO-TV San Francisco at 10:00 p.m. PDT
ABC30/KFSN-TV Fresno at 10:30 p.m. PDT
Sunday, March 26
ABC7/WLS-TV Chicago at 11:00 p.m. CDT
Monday, March 27
ABC Localish at 8:30 p.m. EDT
Sunday, April 2
ABC7/WABC-TV New York at 2:00 p.m. EDT
6abc/WPVI-TV Philadelphia at 2:00 p.m. EDT
ABC11/WTVD-TV Raleigh-Durham at 2:00 p.m. EDT
About ABC Owned Television Stations
Disney Network's eight owned ABC stations are multiplatform leaders in local news and information. Collectively No. 1 across all U.S. television, reaching 23% of households and more than 34 million Total Viewers and 62 million digital visitors a month, with a record of 2.2 billion minutes streamed, the eight stations are comprised of WABC-TV New York, KABC-TV Los Angeles, WLS-TV Chicago, WPVI-TV Philadelphia, KGO-TV San Francisco, KTRK-TV Houston, WTVD-TV Raleigh-Durham and KFSN-TV Fresno. WABC-New York has remained the No. 1 station in the country for 19 years.