Media relations
Share this release
ABC Owned Television Stations Announces Its Annual Pride Programming Lineup
Pride Parade Coverage Will Air Live From San Francisco, New York, Los Angeles and Chicago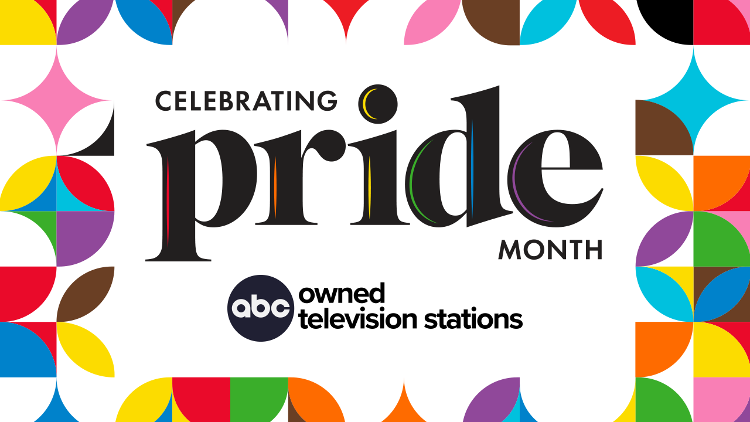 ABC Owned Television Stations today announces its annual Pride programming lineup to include live broadcasts from some of the country's largest Pride parades and marches including San Francisco, New York, Los Angeles and Chicago with simulcasts on ABC OTV streaming and digital platforms, Hulu and ABC News Live, as well as an extensive lineup of special event programming, community events and virtual town halls.  
Highlights include the following:
STATIONWIDE PROGRAMMING
"Pride Across America" –ABC News Live celebrates Pride like never before with Pride Across America. This unprecedented streaming event spans the entire country, featuring live anchored coverage from Pride marches in New York City with Eva Pilgrim, Gio Benitez, LZ Granderson and comedian Murray Hill; in Chicago with Ginger Zee and Alex Perez; and San Francisco with Christiane Cordero and Devin Dwyer. Live coverage starts at 11:00 a.m. EDT on Sunday, June 25, on ABC News Live and will also stream on Hulu.
"Our America: Who I'm Meant To Be" – In partnership with ABC News, the one-hour special showcases six transgender people from The GenderCool Project. Each shares their personal stories offering insight into who they are, their ambitions, and what they want others to know about their generation. Hosted by Emmy® Award-winning ABC News correspondent Gio Benitez. The special premieres JUNE 1 across ABC OTV streaming and digital platforms, ABC News Live and Hulu; will make its linear debut beginning Saturday, JUNE 3; and will air across all eight ABC Owned Television Stations and on the award-winning Localish Network.
"On the Red Carpet Celebrates Pride" –On the Red Carpet is celebrating Pride Month with a look at how LGBTQIA+ celebrities are making history and how Hollywood is telling more inclusive stories. The show will air live from the Pride in the Park event in Downtown Los Angeles, Saturday, June 10, at 6:30 p.m. PDT on ABC7 Los Angeles, then rebroadcast on the other owned television stations during the following week.
ABC7/KABC-TV LOS ANGELES
2023 L.A. Pride Parade – The parade will feature a special performance presented by the ACLU SoCal and staged by Morgan McMichaels to music by 14-time Oscar® nominee Diane Warren. It will air live Sunday, June 11, on longtime L.A. Pride broadcasting partner ABC7/KABC-TV beginning at 11:00 a.m. PDT. It will also air nationally on ABC News Live and Hulu, and wherever viewers stream KABC-TV including abc7.com and the ABC7LA mobile app. Anchor Ellen Leyva and reporter Christiane Cordero from ABC7 Eyewitness News will co-host the broadcast.
"On the Red Carpet Storytellers' Spotlight" – Brandon Kazen-Maddox, an ASL performer who has worked with Disney on Broadway in the "Lion King" and "Newsies," shares their story about being a nonbinary, two-spirited, biracial person and GODA (grandchild of deaf adults). The spotlight will be available here beginning Friday, June 2.
LGBTQIA+ Night at Dodger Stadium – KABC-TV will be broadcasting live from Dodger Stadium as the L.A. Dodgers battle the S.F. Giants on June 16 during the 5:00 p.m. and 6:00 p.m. PDT newscasts and – for the first time ever – both teams will be wearing Pride colors on their team caps.
ABC30/KFSN-TV FRESNO
Fresno Rainbow Pride Parade – KFSN will once again be a media sponsor of the Fresno Rainbow Pride Parade, taking place Saturday, June 3, at 10:00 a.m. PDT in Fresno.
ABC7/KGO-TV SAN FRANCISCO
San Francisco Pride Parade and Celebration – One of the largest LGBTQIA+ celebrations in the world, the San Francisco Pride Parade and Celebration will be broadcast and streamed live by KGO-TV, the exclusive media partner of San Francisco beginning at 10:30 a.m. PDT. Also airing on KGO-TV's website, streaming channels and Hulu with more coverage on KGO-TV's stream from 12:00-2:00 p.m.
ABC13/KTRK-TV HOUSTON
"Action 13: Black LGBQTIA+ Mental Health Town Hall" – Streaming anchor Brittaney Wilmore leads a panel discussion on Black LGBTQIA+ Pride and mental health at the Black Queer Advancement Festival in Houston. The special will begin streaming Thursday, May 25.
Houston Pride Parade – KTRK-TV is the official media sponsor for45th Annual Houston Pride Parade on Saturday, June 24, beginning at 7:00 p.m. CDT in Downtown Houston. Viewers can tune in to join ABC13 Houston's Erica Simon, Mayra Moreno, Pooja Lodhia and Bob Slovak for a live stream of the parade; encore presentations will air on linear and KTRK-TV's 24/7 stream.
ABC7/WABC-TV NEW YORK
The NYC Pride March – From its beginning in 1970 – one year after the Stonewall Uprising – The NYC Pride March has been an annual civil rights demonstration. This year's march on Saturday, June 24, will show "Strength in Solidarity" as NYC Pride seeks to spotlight the power and resiliency of the community. It airs at 11:00 a.m.-12:00 p.m. EDT and streams on abc7ny.com and YouTube.
"Pride 2023: Strength in Solidarity" – On Saturday, June 24, at 7:00 p.m. EDT, WABC will air a 30-minute special that examines and amplifies the theme of this year's NYC Pride March, "Strength in Solidarity." It will include profiles of inspiring LGBTQIA+ individuals, segments on the history of the community, important current events, and more in an uplifting, entertaining and informative celebration of unity.
ABC7/WLS-TV CHICAGO
52nd Annual Pride Parade – ABC7's live broadcast and stream will begin at 12:00 p.m. CDT on Sunday, June 25, featuring anchors Tanja Babich, Hosea Sanders and Jason Knowles along with special guests Cody LaGrow and Kim Hunt. It will also stream on ABC News Live and the WLS-TV's 24/7 stream.
6abc/WPVI-TV PHILADELPHIA:
Philadelphia Gay News Pride "Stonewall Awards Brunch" – To honor those who have impacted the LGBTQIA+ community, Philadelphia Gay News will host the Stonewall Awards Brunch taking place on Pride Day, June 4, at the Arts Ballroom in Center City. The event will be hosted by 6abc meteorologist Adam Joseph and livestreamed by WPVI-TV beginning at 11:00 a.m. EDT.
"6abc Philly Proud Town Hall Celebrating Pride Month" – Hosted by 6abc meteorologist Adam Joseph, WPVI-TV will honor community nonprofits and individuals making a difference in the local LGBTQIA+ community. The Town Hall will also feature interviews and discussion of current events affecting the community and will be available to stream beginning June 10.
"FYI Philly" – Philly's weekly lifestyle show will feature a special 30-minute LGBTQIA+-themed special on Saturday, June 10, at 7:00 p.m. EDT on linear and streaming.
"Visions" Pride Month Special – Hosted by 6abc meteorologist Adam Joseph, this special episode on Sunday, June 17, at 7:00 p.m. will re-air on Sunday, June 18, at midnight and will be available on WPVI-TV's digital platforms.
ABC11/WTVD-TV RALEIGH-DURHAM
Out! Raleigh Pride – WTVD-TV is the official media sponsor of "Out! Raleigh Pride" on Saturday, June 24.  WTVD-TV talent will greet community members in a "pop-up studio" from 11:00 a.m. – 6:00 p.m. EDT. The festival is an inclusive and family-friendly event with live entertainment, local vendors and artists, food, a KidsZone, beer garden and a wellness pavilion with information on mental health, health disparities, financial literacy and more.
About ABC Owned Television Stations 
The eight owned ABC stations are multiplatform leaders in local news and information. Collectively No. 1 across all U.S. television, reaching 23% of households and more than 34 million Total Viewers and 62 million digital visitors a month, with a record of 2.2 billion minutes streamed, the eight stations are comprised of WABC-TV New York, KABC-TV Los Angeles, WLS-TV Chicago, WPVI-TV Philadelphia, KGO-TV San Francisco, KTRK-TV Houston, WTVD-TV Raleigh-Durham and KFSN-TV Fresno. WABC-New York has remained the No. 1 station in the country for 19 years.
Media Contact:
Ambir Sniezko
ambir.sniezko@abc.com