Media relations
Fonda Berosini
Disney Entertainment, Networks
Share this release
ABC News Live Presents Primetime Streaming Special 'Stop the Hate: The Rise in Violence Against Asian Americans'
Anchored by ABC News' Juju Chang and Eva Pilgrim, With Reporting From Correspondent Zohreen Shah, ABC7/KGO-TV San Francisco's Dion Lim, ABC7/WABC-TV New York's CeFaan Kim and 6abc/WPVI-TV Philadelphia's Nydia Han, and Special Features Interviews With Actress Olivia Munn, Actor Daniel Dae Kim and Congresswoman Grace Meng
'Stop the Hate: The Rise in Violence Against Asian Americans' Streams Thursday, March 4, at 8:00 p.m. EST on ABC News Live and ABC Owned Television Stations' Websites and Connected TV Apps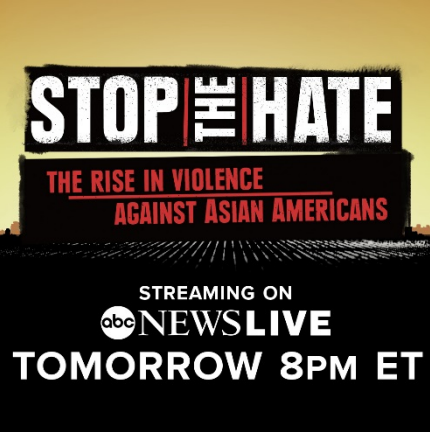 ABC News Live will present primetime streaming news special "Stop the Hate: The Rise in Violence Against Asian Americans." Anchored by ABC News' Juju Chang and Eva Pilgrim, the special will feature reporting from correspondent Zohreen Shah, ABC7/KGO-TV San Francisco's Dion Lim, ABC7/WABC-TV New York's CeFaan Kim and 6abc/WPVI-TV Philadelphia's Nydia Han, and interviews with actress Olivia Munn, actor Daniel Dae Kim and Congresswoman Grace Meng. The one-hour special traces the events that have led to anti-Asian violence; spotlights stories of victims and the process of prosecuting the hate crimes; explores why America is paying attention now; and profiles the new activism emerging in the AAPI community. Experts Nikita Chaudry and Doris Chang will explain and give context to the varied nature of Asian cultures and what the violence and racism is doing to AAPI communities, respectively. "Stop the Hate: The Rise in Violence Against Asian Americans" streams Thursday, March 4 at 8:00 p.m. EST on ABC News Live and on ABC Owned Television Stations' websites and connected TV apps (ABC7/WABC-TV New York, ABC7/KABC-TV Los Angeles, ABC7/WLS-TV Chicago, 6ABC/WPVI-TV Philadelphia, ABC7/KGO-TV San Francisco, ABC13/KTRK-TV Houston, ABC11/WTVD-TV Raleigh-Durham and ABC30/KFSN-TV Fresno), and on streaming platforms Fire TV, Android TV, Apple TV and Roku.
About ABC News Live
ABC News Live is ABC News' 24/7 streaming news channel that presents coverage of live events, breaking news, in-depth reporting, context and analysis from around the world. It features original programs such as evening newscast "ABC News Live Prime" with Linsey Davis, "ABC News Live Update" with Diane Macedo and political program "The Breakdown" with Macedo and Terry Moran. It has streamed a robust slate of original news and entertainment specials and original documentaries, including "Guardians of the Amazon" and "Homegrown Hate."
ABC News Live is available to more than 370 million streamers with its distribution on Hulu, The Roku Channel, YouTube TV, Samsung TV Plus, Amazon's news app on Fire tablets and Fire TV devices, Xumo, Sling TV, fuboTV, Haystack News, Facebook, Twitter, ABCNews.com, the ABC News and ABC mobile apps, and standalone ABC News Live apps on Amazon Fire TV, Android TV, Roku and Apple TV.
About ABC Owned Television Stations
Walt Disney Television's eight owned ABC stations are multiplatform leaders in local news and information. Collectively No. 1 across all U.S. television, reaching 23% of households and more than 34 million Total Viewers and 62 million digital visitors a month, the eight stations are comprised of WABC-TV New York, KABC-TV Los Angeles, WLS-TV Chicago, WPVI-TV Philadelphia, KGO-TV San Francisco, KTRK-TV Houston, WTVD-TV Raleigh-Durham and KFSN-TV Fresno. The stations also deliver locally sourced storytelling to more than 14 million viewers across America through its digital-first national lifestyle brand and broadcast channel, Localish. Most recently, the stations received five Broadcast & Cable awards in the major market category for 2020: Best Station Group, Best News Coverage, Best Digital Multiplatform or Website, Best Investigative Reporting Station Group and Best Public Affairs Programming, illustrating the group's strength and ever-increasing growth and reach in the multiplatform space.